Partners Development is excited to break ground for Innovation South, an 85,000-square-foot multi-use facility at the UT Research Park at Cherokee Farm.
The facility will be the new expanded home of UT's Fibers and Composites Manufacturing Facility (FCMF).
UT will occupy a 40,000-square-foot high bay and laboratory space designed to support teams of faculty, students and their industry collaborators who will work together to conceptualize, prototype and test sustainable composite materials for advanced manufacturing applications, including precision agriculture, architecture and automotive, among others.
"Innovation South demonstrates UT's continued commitment to co-locate our leading researchers with their industry partners, quickly turning research results into new products that strengthen and grow Tennessee's innovation economy," said UT Chancellor Donde Plowman.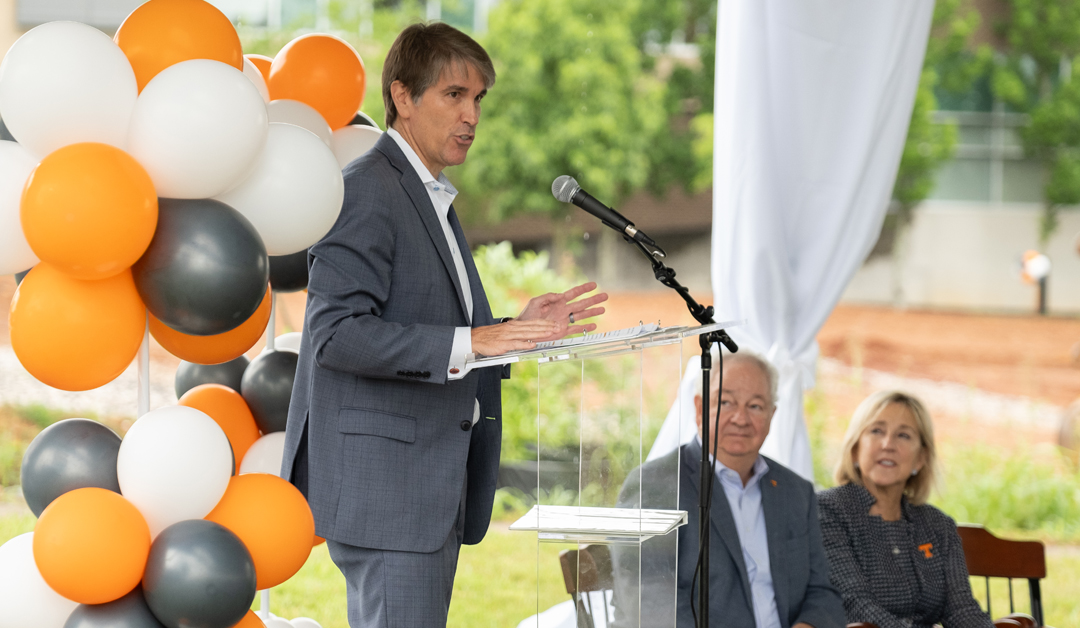 Russ Watkins, President and CEO of Partners Development speaks to the crowd at the groundbreaking of Innovation South.
Innovation South will also serve as the new headquarters for IACMI — The Composites Institute, a 130-plus-member consortium of companies largely focused on the composites manufacturing sector.  "IACMI is excited to locate our headquarters at Innovation South," said IACMI's CEO and UT Professor of Mechanical Engineering Chad Duty. "It will be a great focal point for regional synergy, offering unique opportunities for public–private collaboration to create commercial solutions in the advanced manufacturing of composites."
In addition to UT and IACMI, other tenants slated to move into Innovation South include EDP/New Day Diagnostics, Cherokee Farm Development Corporation, Trimble, the U.S. Forest Service, Volkswagen Group of America, and The Golden Roast.